I've got money amnesia today
Going out in New York City is
expensive
. Every time I wake up after a night out, I have money amnesia. Forgetting the various pints of Guinnii consumed the night before, I mentally calculate my expenses, asking myself "Where did it gooooo?"
a
One Guinness = A Guinness
a
More than one Guinness = Guinnii
Despite my good intentions, my hard-earned cash is sucked into the vortex that is this city. This never bothered me when I was still on the dole from my parents, but since I've been earning my own...well, you know.

Por ejemple, the price of a pizza is equivalent to what constitutes fine dining outside of the city. One place I know of charges forty dollars for a pie, because it's got truffle oil "drizzled" on it. Drizzled being a euphemism for "you're lucky if it's even in there". If you're going to charge me $40 for a pie of pizza, I don't want just truffle oil. That's right. My palate may not be sophisticated enough to know what a truffle tastes like, but for forty dollars, you better be putting the whole damn thing on my pie!


Pizza and truffles - the obvious match that was staring me in the face this whole time
Even the simple act of drinking beer is expensive. No one drinks domestic, especially C, whose British accent grows noticeably stronger when he's busy denouncing our 'fizzy water'.
"It's loik drinking the piss, this fizzeh wautah. Pass me the Guinnii, luv"
Around here, the only domestic worth drinking is Brooklyn Brewery beers and even those aren't cheap. I've known people to go to the guided tours they have every Saturday in Billy-burg, just for the free beer at the end. Garrett Oliver, the brew master there, had to turn away one of them, because "we appreciate your loyal patronage, but please don't come to this tour anymore".
Last night, we went to Spring Lounge for beers after work. I love this place. It's a total divehole, in the middle of all that gentrification happening on Spring Street, and it's great. The danger in that is spilling out of the bar to go shopping at Fresh just down the street and horrifying their sales staff. "Twenty five bucksh for your Soda Shampoo?? Ish there any Bacardi in it?"
I've spent many a night here enjoying their tipples and terrific jukebox, while watching the old-timers, who go back to when it was the famed Shark Bar, fall off of their stools. But when you look at the place, you have to marvel how even they can get away with charging $7 for an beer, even if it is an import.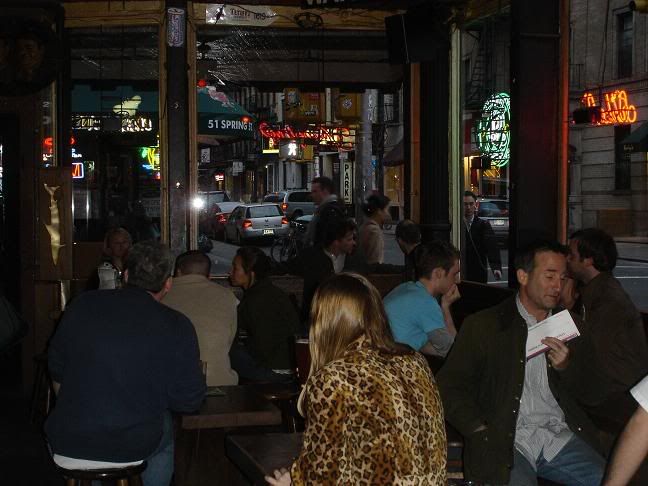 Not exactly the Ritz, eh?
As a Jersey girl, I can attest to many a Saturday afternoon sitting in traffic on the way to the mall. And before me was a sea of New York license plates clogging up the highways, because there's no sales tax in New Jersey and everything is just cheaper. Growing up, playing the "Guess the New Yorker" game was a fun way to pass the time. Those were the ones who strapped their grocery bags to the tops of their heads and onto their backs, precious cargo that it was, before heading back across the bridge.
But karma's funny like that. Nowadays, my doorman has a stroke every time I come back from a weekend with my parents in Jersey, lugging half of the state along with me.